Інша Європа після закінчення Холодної Війни: географічні межі, характерні особливості, перспективи.
Ключові слова:
Центральна Європа, Південно-Східна Європа, Східна Європа, Європейський Союз
Анотація
У статті проаналізовано еволюцію посткомуністичної Європи, зокрема її основні риси, регіональну диверсифікацію (Центральна Європа, Південно-Східна Європа, Східна Європа), а також її майбутнє у контексті відносин з ЄС.
Посилання
Balladur, E. (1994). Pour un nouveau Traité de l'Elysée. Le Monde, 30 November.
Bechev, D. (2018). The 2016 Coup Attempt in Montenegro: Is Russia's Balkans Footprint Expanding? Philadelphia: Foreign Policy Research Institute. URL: https://www.fpri.org/wp-content/uploads/2018/04/BechevFinal2018.pdf
Concise Atlas of the World (2009). Oxford: Oxford University Press.
Czarnocki, A. (1994). Pojęcie «Europa Środkowo-Wschodnia». In: B. Mrozek. ed. Historia, polityka, stosunki miedzynarodowe: ksiega jubileuszowa na 65-lecie profesora Józefa Kukułki [History, politics, international relations: the jubilee book for the 65th anniversary of Professor Józef Kukułka]. Warszawa: Elipsa, p. 4–53.
Davies, N. (1998). Europe. A History. New York. Harper Collins.
Fedorenko K., Umland A. (2017). How to embed Ukraine? The idea of an Intermarium coalition in East-Central Europe. New Eastern Europe. 6 July. URL: http://neweasterneurope.eu/2017/07/06/how-to-embed-ukraine-the-idea-ofan-intermarium-coalition-in-east-central-europe/
Hamilton, D., Mangott, G. ed. (2007). The New Eastern Europe: Ukraine, Belarus, Moldova, Washington–Vienna: Center for Transatlantic Relations – Austrian Institute for International Affairs.
Kachka, T., Yermolenko, V. (2018). What might be next in EU-Ukraine relations?, 28 February. URL: https://euobserver.com/opinion/141133
Kirsch, W. (2016). Brexit and the Distribution of Power in the Council of the EU, 26 November. URL: https://www.ceps.eu/publications/brexit-and-distribution-power-council-eu
Kłoczowski, J., Łaszkiewicz, H. ed. (2009). East-Central Europe in European History. Themes & Debates. Lublin: Institute of East Central Europe.
Lipka, M. (2018). Greek attitudes toward religion, minorities align more with Central and Eastern Europe than West, 31 October. URL: http://www.pewresearch.org/fact-tank/2018/10/31/greek-attitudes-toward-religion-minorities-alignmore-with-central-and-eastern-europe-than-west/
Oxford Atlas of the World. Oxford: Oxford University Press.
Pew Research Center (2018). Eastern and Western Europeans Differ on Importance of Religion, Views of Minorities, and Key Social Issues, 29 October. URL: http://www.pewforum.org/2018/10/29/eastern-and-western-europeans-differ-onimportance-of-religion-views-of-minorities-and-key-social-issues/
Rainio-Niemi, J. (2014). The Ideological Cold War: The Politics of Neutrality in Austria and Finland. New York: Routledge.
Ramet, S. P. (2010). Central and Southeast European Politics since 1989. Cambridge: Cambridge University Press.
Rupnik, J. (1989). The Other Europe. London: Pantheon Books.
Šnejdárek, A., Mazurowa-Château, C. (1986). La nouvelle Europe centrale [New Central Europe]. Paris : Imprimerie Nationale.
Snyder, T. (2012). Bloodlands: Europe between Hitler and Stalin. New York: Basic Books.
Szymański, A. (2017). De-Europeanization and De-Democratization in the EU and Its Neighborhood. Rocznik Instytutu Europy Środkowo-Wschodniej, 15 (2), p. 187–211.
The Economist (2019). The retreat of global democracy stopped in 2018, 8 January. URL: https://www.economist.com/graphic-detail/2019/01/08/the-retreat-of-globaldemocracy-stopped-in-2018?fsrc=scn/tw/te/bl/ed/theretreatofglobaldemocracystoppedin2018dailychart
Thompson, W. C. (2019). Western Europe. The World Today Series 2018–2019. Lanham: Rowman & Littlefield.
Transparency International (2018). Corruption Perceptions Index 2017. URL: https://files.transparency.org/content/download/2172/13704/file/CPI2017_FullDa taSet.xlsx
Wolchik, S. L., Curry, J. L. (2011). Central and East European Politics: From Communism to Democracy. Lanham: Rowman & Littlefield.
World Bank, n.d., DataBank. World Development Indicators. URL: https://databank.worldbank.org/data/source/world-development-indicators/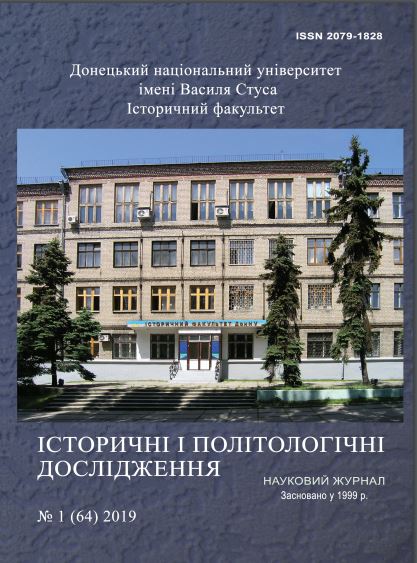 ##submission.downloads##
Розділ
Центральна Європа у трикутнику «імперія–державність–націоналізм»